Oriental Rug Cleaning Hawaii – Honolulu Oahu
Maintaining and cleaning Oriental rugs (i.e. Persian, Middle Eastern, Asian, Indian, etc.) is the ideal and most effective way to maximize its resilience and shelf life. As time passes, area rugs accumulate a considerable amount of dirt, dust and debris whether it's on the ground or wall-to-wall carpeting.
Dirt and dust particles build up and become lodged into the silk, wool, or other fibers that had been utilized to weave the rug. This not only dulls the vibrant coloration of the rug or carpet but can also turn into a health risk if it isn't cared for routinely
Not all Oriental rugs are the same, as each has different weaves and dyes, which determine how they should be cleaned. Our specialists are able to adapt our cleaning process to ensure that each specific rug is brought back to its original beauty and its value protected.
Professional Rug Cleaning Services
At Orient Express Rug Spa (Division of MD Restoration), cleaning a hand-woven rug is a multi-step process designed to maximize the best results without compromising delicate dyes or weaves:
Pre-cleaning inspection to determine pre-existing conditions, fiber content, colorfastness, cleaning concerns, and appropriate cleaning methods.
Thorough dusting to remove dry soil.
Thorough cleaning process designed to remove most types of soil.
Deodorization to address unpleasant odors from pet urine, smoke residue, or other sources.
Rinsing to eliminate detergent residue, which can cause re-soiling and fiber deterioration.
Grooming to set the pile in its original direction and straighten the fringe.

Fabric Protection

: Our soil and stain repellants are specifically designed to provide increased protection from liquid spills and help the rug stay cleaner longer.
Moth Protection: Our topical treatment can be applied to rugs made from wool or other protein-based fibers to help deter insect infestations.
Post cleaning inspection to make sure that everything is perfect!
How Often Should You Clean Your Rug?
Preferably Oriental rug cleaning services ought to be done at minimum of once in a Calendar year. If it's being utilized in an area that has a lot of foot traffic, then cleaning every six months is highly recommended.
As a quick way to determine if your rug needs to be cleaned or not, simply rub your hand on it for a few seconds.  If you notice a lot of dust flying around or your hands are getting dirty then your rug definitely needs to go to the cleaners.
Respiratory illness can be caused by an accumulation of dust on rugs. Also, stains that are left unattended for too long can cause permanent damage to your rug. These kinds of factors should be considered when deciding on the regularity of which your rug should be cleaned.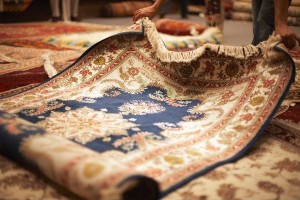 High-grade handmade Oriental rugs require specialized cleaning services to ensure quality control.
The use of certain chemical compounds and cleaners are not suitable for these types of rugs, as it will damage the natural fibers.
Many companies that sell carpeting and rugs also offer cleaning services, but it is best to deal with cleaners who specialize in Oriental rugs.
Our expert cleaners will examine your rug for any damage or necessary repairs before cleaning it. Then the dust and debris is meticulously extracted and the rug or carpet is washed and dried in a dust free environment. The original color and luster will be restored by thoroughly cleaning your Oriental rug.
Should You Clean Your Rug At Home?

DIY cleaning of high quality Oriental rugs (made solely of wool or silk) at home is not recommended.  The hand woven fibers are somewhat durable, but why take a chance?  Call the professionals at Orient Express Rug Spa to clean your rug or carpet…safely, efficiently, and cost effectively!
Orient Express Rug Spa is a division of MD Restoration
Serving all areas within Honolulu, Oahu, Hawaii
CALL Today For Professional Rug and Carpet Cleaning!
(808) 528-3434